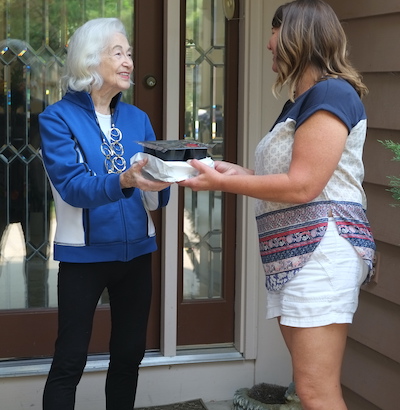 Read what one of our volunteers has to say:
"I remember my great-grandmother receiving "Meals on Wheels" to her San Pedro California home when I was a child. The service made a lasting impression on me and I've always intended to volunteer for the program. I began driving for Meals on Wheels for Fort Collins last fall and have been so pleased with my interaction with the organization, volunteers and clients. I love having my set route and getting to know the grateful clients. My life has truly been enriched by Meals on Wheels and those I have met".
-Stephanie Mekelburg
TOGETHER WE CAN DELIVER
The Issue
The aging population is escalating rapidly, and so is the need for volunteers. Join our group of volunteers who are the heart of the effort that keeps the wheels turning. When we all do our small part, great things can happen.
Volunteers pick up prepared meals at Poudre Valley Hospital between 11 and 11:30a.m. (pick up times are staggered between that time.)  Most routes can be delivered within 45-60 minutes.
OUR SOLUTION
A once-a-week commitment can make a world of difference for a senior in need. For more information about volunteering, contact us at info@fcmow.org or call the office at 970-484-6325. 
VOLUNTEER OPPORTUNITIES
Regular Drivers Monday - Friday
Drivers are assigned a consistent route, week after week. Most routes are currently assigned, but that change. Please let us know if you are interested in a regular route throughout the year!
Summer/Seasonal Drivers -Monday - Friday
Summer drivers needed May-August to drive a regular weekly route while the regular driver is out of town.
Flex Drivers: Monday-Friday
A flex driver is a regular weekly driver assigned to a specific day. They will be assigned to any open route due to regular driver cancellations. If we do not have an open route, we will notify you in advance. A flex driver may cover a variety of routes.
Substitute Drivers
Substitute Drivers sign up to drive only as a sub on certain days. Regular drivers frequently add an extra day a week to sub in addition to their regular day.
Frequently Asked Questions
What is the time commitment for volunteering to deliver meals?
Volunteers are asked to commit for a minimum of three months, once a week from approximately 11-12:30 (1 1/2 hours each week).
When do you need volunteers?
Volunteers are needed Monday through Friday.
Can I bring my children or grandchildren?
Yes, Volunteering with your children or grandchildren for Meals on Wheels is a wonderful opportunity to pass on the values of kindness, compassion and civic responsibility!
How do I sign up to volunteer?
For more information about volunteering contact us at info@fcmow.orgor call the office at 970-484-6325 or complete and submit your application HERE.